Magento PWA
If you are interested in PWA development, Magento Progressive Web App (PWA) is a common term that you must have seen at least once. It is a must-try option for Magento merchants who want to modernize site technology to keep up with the latest trends and provide their consumers with the best possible experience. So what Magento PWA is, and why do you need to care about it? Let's figure it out in this chapter!
What Is Magento?
Magento is an open-source e-commerce platform. It offers online merchants a customizable shopping cart system and control over their online store's appearance, content, and functioning.
With a long list of robust features, Magento has become the top platform for open commerce development. It was named to the 2017 Internet Retailer Top 1000, B2B 300, and Europe 500 lists as the leading commerce platform. The platform has many plug-ins and themes that are useful for improving customer experience.
It also owns over 1,150 solutions and technology partners. It is to allow even people who aren't developers to use it at ease. Further, the Magento community is large and extremely helpful, with more than 300,000 developers from all over the world.
Magento has a comprehensive portfolio of cloud-based omnichannel solutions, including in-store, retail associate, and order management technology, in addition to its signature open-source commerce platform. No matter the customer's requirement, it commits to providing them with an all-in-one scalable, cost-effective, and infinitely adjustable solution.
Magento PWA Vs Regular Magento Websites
It can say that Magento Progressive Web Apps surpass typical Magento websites in all aspects: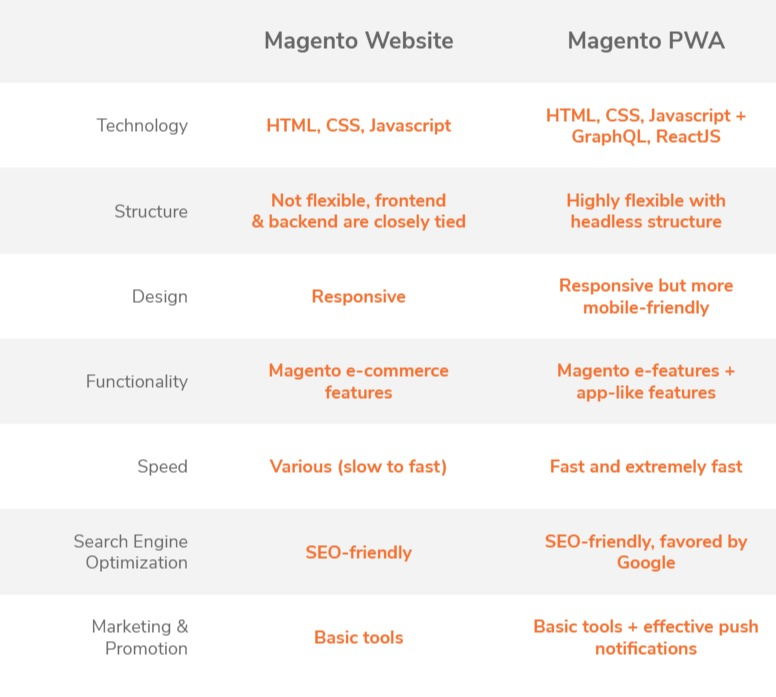 Magento PWA Studio Project
The term Magento PWA refers to a Magento online store that applies PWA technology. The Magento PWA Studio project is a collection of developer tools for building, deploying, and maintaining a PWA storefront on Magento 2.3 and higher.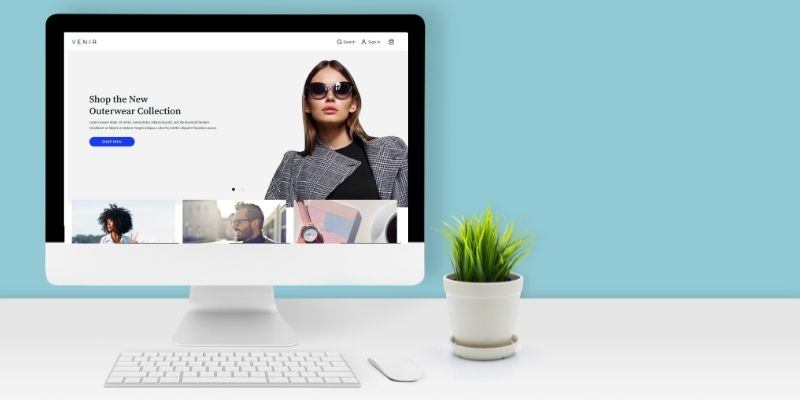 It creates a build system and framework that adheres to the Magento notion of extensibility by utilizing updated tools and frameworks. PWA Studio allows merchants to develop their own high-performance PWAs on top of Adobe Commerce, increasing user engagement, conversion rates, and revenue streams.
Since Magento 2 is becoming popular, Magento is promoting the PWA Studio as a fully-equipped toolkit for designing and maintaining a PWA storefront for Magento 2 stores. It is inclusive of several packages, for example:
PWA Buildpack is a build & development tool and library that can set up and configure the local environment for PWA development.
Peregrine is a set of functions that act as the brains for your visual components. They offer logic for user interface components, such as those given by the Venia library. This tool helps to create a bespoke Magento PWA storefront by combining or remixing these features and components.
The Venia reference storefront makes it simple to design PWAs that integrate with the Adobe Commerce backend. Currently, it has samples of product information and category pages.
Magento PWA Studio's Pros & Cons
Pros
Using latest technologies
Magento PWA Studio's tools are always up to date and come with the most comprehensive documentation in which there are many necessary tools for creating a personalized storefront. For instance, it can have near-zero over-fetching and better handling, multiple users, from different sources thanks to GraphQL.
As paragraph mentioned above, the tool belongs to Magento, which is supported by a large community of contributors. By joining this network, you can receive support at any time.
Cons
As PWA Studio is still an emerging player in the industry, the majority of its functions are still under process, which means that it needs more time to be considered a completed project.
Being restricted to Magento backend only
That is, it can only be used by e-commerce websites built on the Magento platform.
TigrenPWA
We – Tigren, a professional in Magento website development with 10 years of experience, came up with a perfect PWA solution for Magento stores – a readymade TigrenPWA theme for Magento 2.
Created to overcome the disadvantages of Magento PWA extensions and limitations of Magento PWA Studio, TigrenPWA gives Magento merchants tremendous benefits as follows:
It makes use of other cutting-edge technologies such as React.JS, Magento PWA Studio, and GraphQL. The PWA Studio base ensures that the theme adheres strictly to all of the Magento platform's requirements and limits potential code conflicts. All of this contributes to the theme's steady performance.
Exquisite PWA storefronts
TigrenPWA theme also comes with a variety of appealing storefront designs for you to choose from. Each of them is not only ready to use but can also be customized. Thereby, you may make your Magento storefront more professional and unique.
Numerous advanced features
The best part is that TigrenPWA is distinguished from its competitors by its superb e-commerce features such as one-step checkout, enhanced layered navigation, live chat, social sharing, etc.
In the near future, we are going to introduce other revolutionary features that we believe will be worth your expectation.
In Brief
Like any other players in the e-commerce game, Magento merchants all want to be the winners with the most modern technologies. And PWA is one of them that promise to be a game-changing factor.
The bottom line is that because there are various PWA themes and templates of different quality in the marketplace, you need to be careful before making a decision. In this case, as advised by experts, you should choose one that is built based on the PWA Studio for your Magento store.